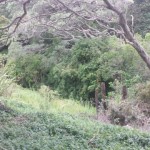 Upper bank prior to planting 8/2/15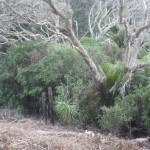 Upper bank after planting 14/6/15
The follow-up Environmental Education Fund planting days were held on 30 and 31 May.  Michelle Gordon, a Canadian biodiversity exchange student studying for a semester at Unitec, volunteered to assist for the weekend and proved to be our most enthusiastic and hard working volunteer to date.  She was up at 6.30am and keen to commence work.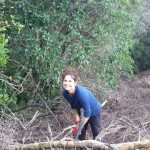 The first 2.5 hours were spent preparing the Carlyon's property for planting.  Unfortunately we were unable to kill the periwinkle despite four previous attempts with a variety of sprays, so we cleared some areas by hand.  Later in the morning we cleared weeds on the wetland area behind the Brown cottage with Linda and Alan Lee, as well as transplanting several cabbage trees and splitting/transplanting sedges.  Two other Unitec biodiversity student volunteers who were going to join us were unable to make it.  Michelle soon rallied around and on Saturday night we were joined by four of her flatmates, also Unitec students studying architecture, graphic students and IT; Vaishai from Dehli, Monik from Mumbai, Emily from the USA and Vaidik from Rajisthan. We woke to heavy rainfall on Sunday morning.  However, this did not deter our enthusiastic volunteers who got to work clearing, splitting and planting flaxes.  With the help of Richard Taylor, Chris Erikson and Rick Carlyon, several large flaxes were replanted.  Only some of the funded native plants were planted and we hope to complete the planting within the next four weeks.
Many thanks to all our volunteers including Jo Evans who transported the plants from Te Hana Nurseries.