Despite a stormy start to the day, 8 volunteers braved the elements and ventured down the muddy paddocks towards the border of the TFS planting site on Mike and Fiona Francis' property.  The first hour was spent digging and splitting flaxes; not an easy task with such well established plants.  Anita spotted a large number of cabbage tree seedlings under one of the apple trees in the orchard and some of them were dug up and transplanted.  By 1.00pm we had filled most of the gaps.  Mike will be keeping a close eye on the local pukeko population in the hope they won't pull up any more plants.  It was a most enjoyable morning with lots of laughter and very changeable weather – including sunshine and a brief hail storm!  Mike's special hamburgers went down a treat after the morning's efforts.
Thanks to our volunteers Neil and Cheryl Sutherland, Richard Taylor, Niklas, Anita and to Mike and Fiona for a most enjoyable working bee.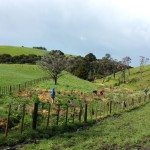 That afternoon, Nik and I planned to plant an area at the bottom of Mt Pleasant Drive but unfortunately our spraying efforts three weeks earlier had been unsuccessful and the area will need to be resprayed.  We met with members of the Auckland Council to discuss the best plan of action.  6 large cabbage trees and 8 flaxes were transplanted.