It is easy to feel disillusioned when faced with the spring growth of an overwhelming number of weeds, and Tradescantia has proved to be a huge challenge for our project volunteers. Panakenake (pratia angulata) was recommended to replace this nasty weed and it was very upsetting when the 100 or so plants propagated by John Harvey, and planted in 2016, were washed downstream after a heavy rainful. However, at a weeding day held on 23 November 2019, we were given a real glimmer of hope to see that a number of these plants have survived. The panakenake photographed was a delight to behold, and it looked very much at home. We are hopeful that, over time, this plant will become more established in the valley and help to suppress the tradescantia.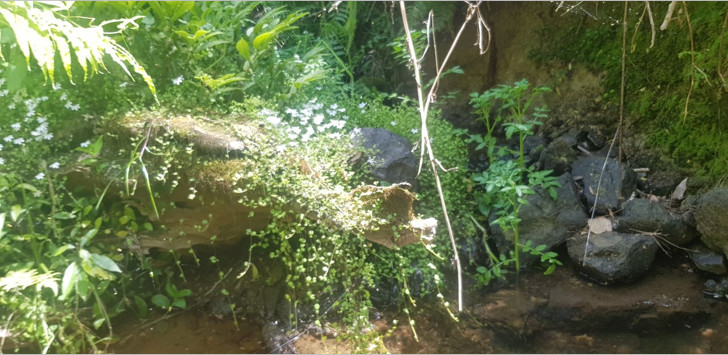 Neil and Cheryl Sutherland and Richard Taylor worked hard at clearing tradescantia from the stream edges and from amongst the parataniwha (Elatostema rugosum). This was a laborious task which they took in their stride and we had an enjoyable few hours in the valley.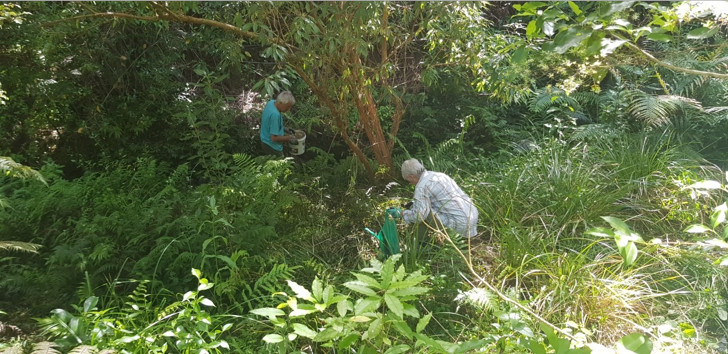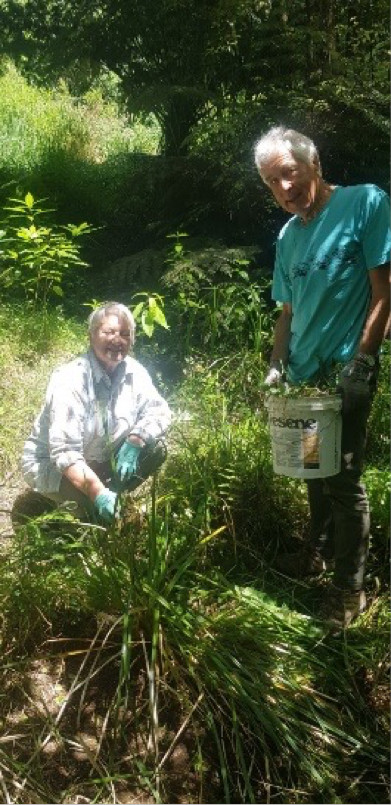 Another weed that is quite established is montbretia. Due to its underground corms and long creeping rhizomes, it will be an ongoing challenge to control but one we are determined to win!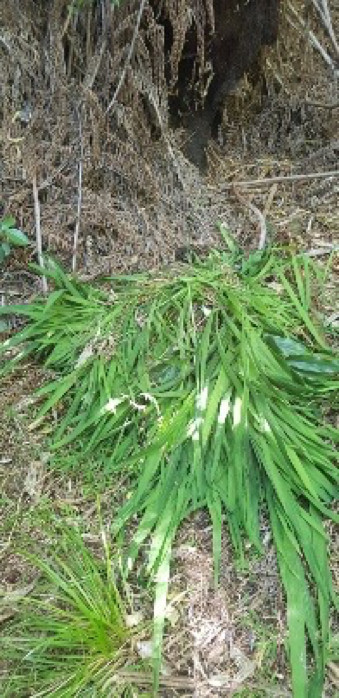 The next day was spent cutting and pasting privet and deadly nightshade along Mt Pleasant Drive then, encouraged by a recent meeting with Jenny Enderby, I went on my first solo trap clearing mission. Armed with a mask, gloves and tongs, I checked and rebaited the traps. It didn't take too long to learn that it is important to apply the bait to the snap traps before setting them so thank goodness I was wearing gloves! I have to admit it was a relief to discover that all the traps were empty but I'm sure this job will get easier over time and I'll be able to deal with a dead rat or stoat without screaming at top note.
Another impromptu weeding day was held on Sunday, 1 December when I met with Richard Taylor and we spent just over an hour and a half clearing tradescantia from the stream bed. There is still much work to do and we look forward to making further progress in the valley in 2020.