It has been a disappointing start to the year with the climatic conditions proving to be particularly weed-friendly.  Convolvulus became established over the plants on the Carlyons' property despite two hand-clearing efforts in preparation for spraying.  Many other varieties of weeds including  mothplant also made their presence felt but the convolvulus formed a thick carpet over the plants.  No doubt this was due the fact this weed, which was already established at the top of the property, was disturbed in spring when Cam sprayed the area.  The muggy temperatures during February prevented us from doing much follow-up weeding and Cam was unavailable for most of the month.  While it had already been concluded that the selected plants (pratia angulata and muehlenbeckia) were  not hardy enough to compete with certain weeds and more suitable native plants needed to be planted instead, my heart sank when I saw the area two weeks ago.
However, it is easy to forget how many weeds we have removed including large areas of moth plant and eleagnus which were threatening to strangle the bush.  Patience is necessary and with regular follow-up spraying, a selection of more suitable plants, as well of regular control of weeds, our efforts will pay off.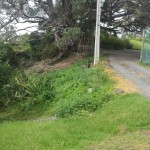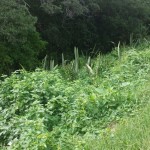 March has gone off to a promising start.  Cam carried out 14 hours of weeding in the valley and on the Carlyon's property, cutting and pasting privet and other larger weeds and spraying tradescantia 1 metre from the stream edge.
Our first formal working bee for some time was held on Saturday 12 March.  We were thrilled to see how great the area was looking since we last worked there just under a year ago.  Thanks to our volunteers Richard Taylor, Nik Erikson, Trish and Arthur Gundy and John and Nola Harvey, a large area of Tradescantia further downstream was cleared.  Richard, Nik and I planted about 20 sedges in the early afternoon.  It was difficult for Richard to get a spade into the rocky stream banks and stream bed, so at times we resorted to using our hands.  I think the pratia angulata John Harvey has been propagating will be a good plant for this rocky area.
Nik set some further stoat traps and then we distributed some of the remaining sedges to other property owners.
We both worked for another 4 hours in the afternoon, finishing just before 7pm.  Nik mowed our lawns which came up to his knees and I carried out further weeding on the Carlyons' and planted a few sedges around the surviving plants.
Our water pump at the bach was out of action so we were unable to have a nice shower after all our efforts.  We headed home very dirty and received some strange glances when we stopped in at a Japanese restaurant to pick up takeaways at around 8.30pm!